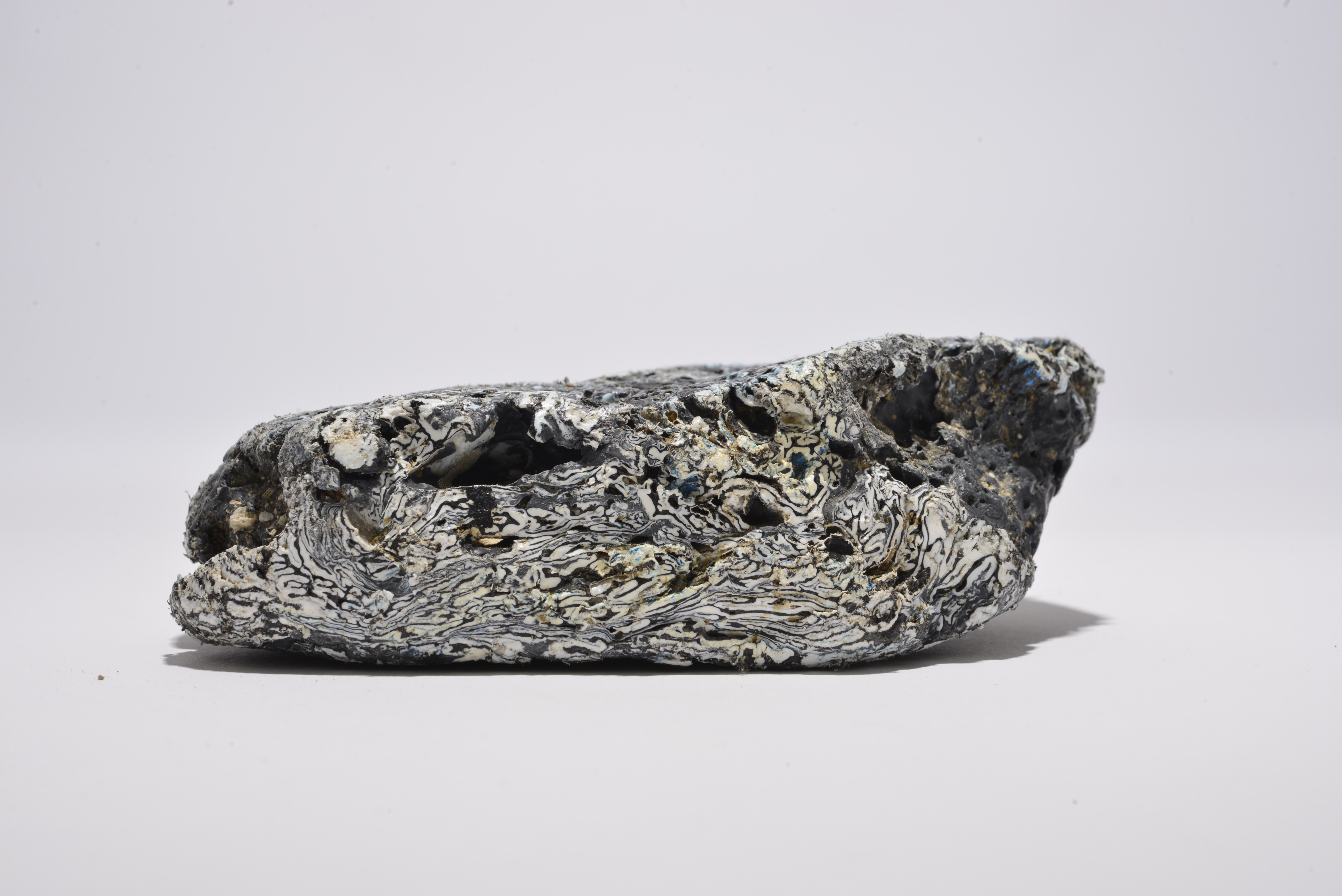 Plastiglomerate sample 1 - 15x7x5 cm approx. 70gr weight
Plastiglomerate sample 2 - 7x5x6 cm approx. 15gr weight
Plastiglomerate sample 3 - 10x7x7 cm approx. 40gr weight
The Plastiglomerate Flag
MA Final Project
-
"The Plastiglomerate Flag" is a communication design and environmental awareness project that works to envision how human-made marks on Earth will be envisaged in a near future, making use of speculative and visual communication design and exploring its creative boundaries.
Overall, the project focuses on the creation of a platform for the exploration of eco-data visualization of plastic pollution providing a much-needed stronger link between scientific research and public environment awarness from ethical and political perspectives. The flag will work as opposition of messages with the 'Blue Flag' to raise conversations around environmental issues and the 'Anthropocene epoch' with the discovery of the 'Plastiglomerate' pebbles (term proposed by Patricia Corcoran, Charles J. Moore and Kelly Jazvac for a stone that contains mixtures of sedimentary grains, and other natural debris that is held together by hardened molten plastic in coastal enviroment) being the flag a symbol of these.
-
"The Plastiglomerate Flag" es un proyecto de comunicación y concienciación ambiental con el fin de visualizar cómo se verán los cambios ambientales realizados por el hombre en la Tierra en un futuro próximo, haciendo uso de la exploración del diseño especulativo y sus límites creativos.
En general, el proyecto se centra en la creación de una plataforma para la visualización de datos ecológicos sobre la contaminación de plásticos con el fin de proporcionar un mayor vínculo entre la investigación científica del mismo y la concienciación pública desde una perspectiva ética y política. La bandera desempeñará su función como oposición de mensajes con la 'Bandera Azul' para generar conversaciones sobre temas ambientales y la 'Anthropocene epoch' con el descubrimiento de los 'plastiglomeratos' (término propuesto por Patricia Corcoran, Charles J. Moore y Kelly Jazvac para una especie de piedras que contiene mezclas de granos sedimentarios y otros desechos naturales que se mantienen unidos por plástico fundido endurecido en lugares costeros) siendo la bandera símbolo de éstos.
-
Year:
2018
Pebbles:
Cornish Plastic Pollution Coalition
Client:
Self-Production (MA Final Project)
Edition:
Prototype
Photography:
Self-production